Star Wars fans *love* a prequel, right?
Lucasfilm's franchise already has more prelude movies than you can shake a lightsaber at and there's no sign of the trend slowing down as Disney have just announced a prequel television series to the prequel film, >Rogue One: A Star Wars Story.
Had enough of the word 'prequel' yet?
Rogue One received rave reviews and raked in the galactic credits at the box office, with a global haul of over $1 billion so it's not a complete surprise that they've delved into this world once more.
Disney Chairman and CEO Bob Iger made the announcement saying that a second Star Wars live-action series is in development for their new direct-to-consumer streaming service, Disney+ (the first being The Mandalorian).
The series will follow the adventures of rebel spy Cassian Andor during the formative years of the Rebellion and prior to the events of Rogue One – and will see Diego Luna reprise his role from the hit movie.
Here's everything we know about the currently-unnamed Star Wars Rogue One prequel television series starring Diego Luna.
Rogue One prequel show cast: Who's in it?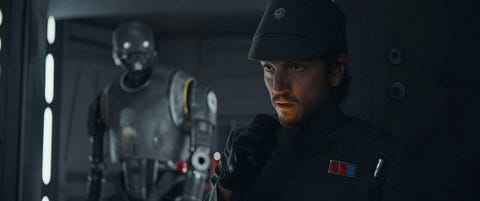 >
Lucasfilm
As you will have seen, Diego Luna will reprise the role of Cassian Andor, a pivotal role in Rogue One.
"Going back to the Star Wars universe is very special for me," said Luna.
"I have so many memories of the great work we did together and the relationships I made throughout the journey. We have a fantastic adventure ahead of us, and this new exciting format will give us the chance to explore this character more deeply."
Luna has already returned to the part in >Secrets of the Empire, a "hyper-reality experience" also set pre-Rogue One.
But who else is back?
No names have been confirmed, and we would suspect much of the cast may be new characters, but it would seem criminal not to also feature the return of former Imperial droid K-2SO, played by Alan Tudyk.
Perhaps we'll the see the moment when the two met up and K-2SO was reprogrammed by Cassian to serve the Rebellion?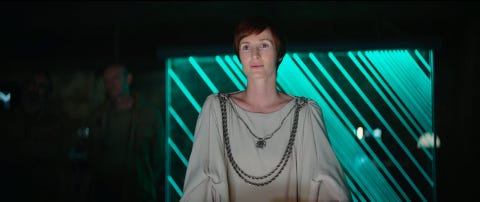 >
Disney
Lucasfilm
Speaking of the Rebels, let's hope too there's room for more familiar faces such as Mon Mothma, General Draven and Bail Organa, played by Genevieve O'Reilly, Alistair Petrie and Jimmy Smits respectively.
And we wouldn't rule out the odd cameo from Artoo and Threepio.
On the Empire's side, maybe Ben Mendelsohn will reprise his role as the memorable lackey Orson Krennic?
Rogue One prequel show trailer: When can I see it?
Disney+, the streaming platform that the series will be available on, is set to launch in "late 2019".
While the show itself won't be finished by then, it's possible that's when we'll get our first peak at the latest prequel.
It's also possible that either the next Star Wars Celebration event or the Disney D23 Expo convention, both in 2019, could reveal an exclusive teaser of some description.
Rogue One prequel show release date: When can I watch?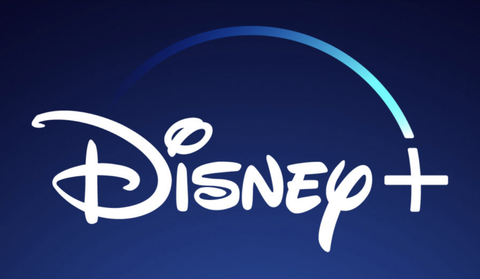 >
Disney
Filming is set to begin in 2019, so expect the show to hit the Disney+ streaming service the following year.
2020, as fans will already be lamenting, will be the first year without a cinematic Star Wars tale since the franchise's return in 2015. So this could fill a Sarlacc Pit-sized hole.
Rogue One prequel show plot: What's it about?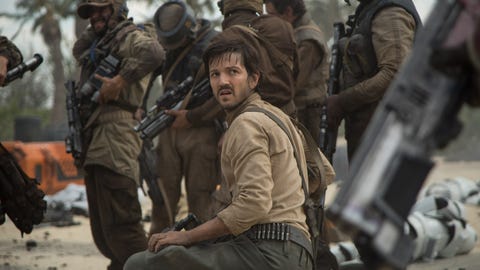 >
Lucasfilm
Luna is claiming that he knows "very little" at the moment as he's just "very recently" signed up, so we have scant details other than that it follows the adventures of Andor prior to the events of Rogue One.
The "formative" aspect of the Rebellion could mean that Enfys Nest is seen continuing her work against the Empire last seen in the Star Wars 'story', Solo. And, perhaps, a closer look at crime syndicate 'Crimson Dawn' and a return for Darth Maul and Emilia Clarke's Q'ira too?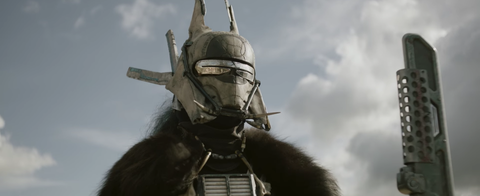 >
Lucasfilm
The official website describes the new series as "a rousing spy thriller will explore tales filled with espionage and daring missions to restore hope to a galaxy in the grip of a ruthless Empire".
So that means more dealings with the Empire – is Governor Tarkin set for another CG outing? More Vader action?
>
Lucasfilm
There may even be a link between this series and the other forthcoming Star Wars live-action show, The Mandalorian.
According to apparently-leaked set photos from the Disney+ TV series, Death Troopers (last seen in Rogue One) were snapped alongside Stormtroopers.
And maybe, most importantly, Diego will finally get to touch Jabba's skin?
---
Want up-to-the-minute entertainment news and features? Just hit 'Like' on our >Digital Spy Facebook page and 'Follow' on our >@digitalspy Instagram and >Twitter account.
Source : http://www.digitalspy.com/tv/star-wars/feature/a870907/star-wars-rogue-one-prequel-tv-series-diego-luna-disney-streaming-trailer-plot-cast-release-date/